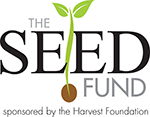 For continued Harvest SEED eligibility,
students must meet the following requirements:
Must have been previously accepted into the Harvest SEED program.
Must maintain a 2.0 grade point average at PHCC.
Must file the Free Application for Federal Student Aid (FAFSA) each year.
Must complete eight (8) hours of community service prior to July 31 (for each year of participation).
Please choose the term when you started under the Harvest SEED program:
Fall 2018
Fall 2019

Harvest SEED Tracker version 2.0